Over the past two decades, we've worked with a wide range of B2B companies – from wholesalers to manufacturers.
We've had a lot of success, too.
You can check out this blog post to see an example of how we grew a B2B company's revenue by 61.72%.
Or check out these eCommerce case studies for more examples of our success with B2B companies.
What Is B2B eCommerce Marketing?
Before we continue, let's define what B2B eCommerce marketing is.
B2B (business-to-business) eCommerce marketing refers to the strategies and activities that businesses use to promote and sell their products or services to other businesses through online channels.
In B2B eCommerce, one business acts as the seller, while another business acts as the buyer. The primary goal of B2B eCommerce marketing, then, is to attract, engage, and convert other businesses as customers.
B2B eCommerce Marketing vs. B2C eCommerce Marketing
While there's a big overlap between B2B and B2C eCommerce marketing – and some companies need both to serve both types of customers – there are also some critical differences that you'll need to understand to succeed.
We've talked about these differences before in this blog post, "The Difference Between B2B and B2C eCommerce", but let's quickly cover the main distinctions here.
With B2B eCommerce, the customers are businesses themselves, often looking for wholesale purchases, specialized solutions, and long-term partnerships. Typically, this involves complex negotiations, customized pricing, and personalized service. B2B marketing focuses on building trust, providing in-depth product information, and demonstrating expertise through content like whitepapers and case studies.
Conversely, B2C eCommerce caters to individual consumers who seek convenience and personalization. B2C marketing relies on emotional appeals, user-friendly websites, and impulse buying tactics. Mass advertising and social media play more prominent roles in B2C, and transactions are generally simpler with fixed prices.
So, while there is plenty of overlap, it's vital that you understand how marketing your B2B eCommerce company is going to differ from the conventional methods that B2C companies use. We covered these in our post on B2B eCommerce strategies, but the difference in approaches span from how you do B2B email marketing to even how you interpret analytics and more.
Why Some B2B eCommerce Companies Don't Invest in Online Marketing
While every client is different, the vast majority of those who come to us for help with B2B eCommerce have all shared one thing in common: they don't think online marketing will be worth it.
The most common reasons for thinking this comes down to them not believing that:
Our catalog is too big for an eCommerce store, or we customize too many of them
Our resale partners will feel threatened if we grow our eCommerce presence
Our customers want to sell POs directly to our sales reps
We need to list our entire catalog or all of our prices online for this to work
While these concerns are perfectly valid, they are also hurdles that can definitely be overcome. For example, for catalogs that are "too big" or "too custom", we often start with these merchants' top products or configurations and then build out from there. This gives them immediate ROIs while we continue to work through their entire inventories.
It doesn't have to be all or nothing.
And even if many of these items have to be ordered on demand with a customers' unique customizations, we just add a "request a quote" button instead of the typical "add to cart."
We have solved all of these challenges for some of our largest customers and they have seen a huge growth in online sales.
Your Competitors Are Investing in Online B2B Marketing Strategies
While we can certainly appreciate the aforementioned concerns, the truth of the matter is simple: more and more B2B companies are adopting eCommerce marketing strategies.
So, if you don't want to upload your inventory online, for example, we get that.
But here's the thing: your competitors absolutely will – if they haven't already.
And the longer their inventories are online while yours isn't, the longer they'll be able to make money without any competition to slow them down. This advantage will only compound over time, too.
Understanding B2B eCommerce: 4 Important Trends in 2023
Whether you're not sold on the benefits of B2B eCommerce marketing strategies or simply don't know where to start, it's important to know what the landscape looks like in 2023. B2B eCommerce has already changed a lot in a very short period of time.
Here are four important facets of eCommerce that you should understand before investing in eCommerce strategies.
1. How the B2B eCommerce Landscape Is Changing in 2023
The main reason we're seeing the B2B landscape change is that B2B buyers are changing.
Traditional buyers are retiring and moving out of these companies, while the new generation is moving in.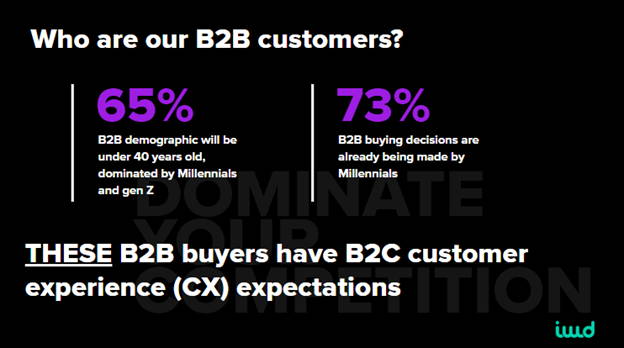 Currently, these businesses are made up of 65% Millennials and Gen Z's. These demographics are accustomed to using Facebook, Instagram, Uber, and Amazon every day. They prefer to go online to do their research, and ultimately, their buying experience – including on their phones.
Additionally, 73% of the leadership in these companies are now millennials.
This includes the actual decision-makers who are used to conducting all their research and buying online. If you're not catering to this growing demographic, you're missing out.
And again, this new generation of buyers demands an experience more like Amazon and Uber. They want to do their research online, have a fast and flexible digital experience, and avoid traditional methods like picking up the phone to make a call or faxing in an order. This means that manufacturers and wholesalers must meet this demand or risk going out of business.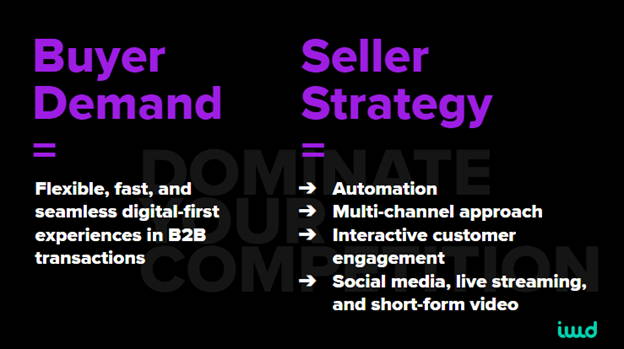 To thrive in this changing landscape, they need a cutting-edge eCommerce experience that matches what buyers are used to, such as Amazon. This is why so many B2B companies are investing in Progressive Web Apps (PWAs) like these other successful companies.
They've also begun to engage in other mediums like social media, live streaming, and short videos to reach buyers who do all their research online.
2. B2B eCommerce Has Continued to Grow in 2023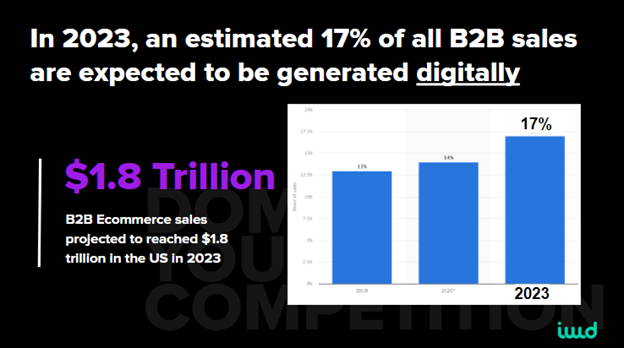 Let's start by looking at some numbers.
In 2023, B2B eCommerce sales are expected to reach $1.8 trillion in online sales, accounting for 17% of all expected B2B sales this year.
Despite economic challenges, B2B eCommerce continues to grow and outpace B2C businesses.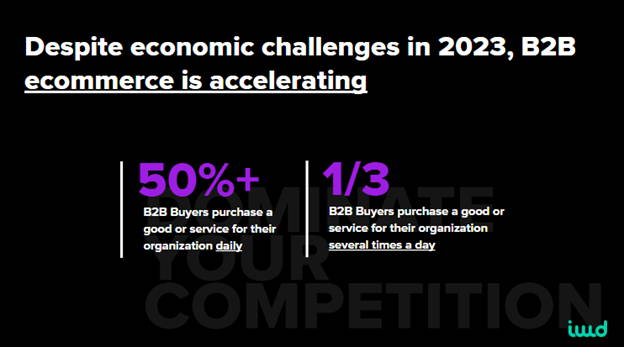 A Forrester report indicates that 50% of B2B buyers make a purchase for their organization once a day, and one out of three buy multiple times a day. This fuels the growth of B2B eCommerce sites.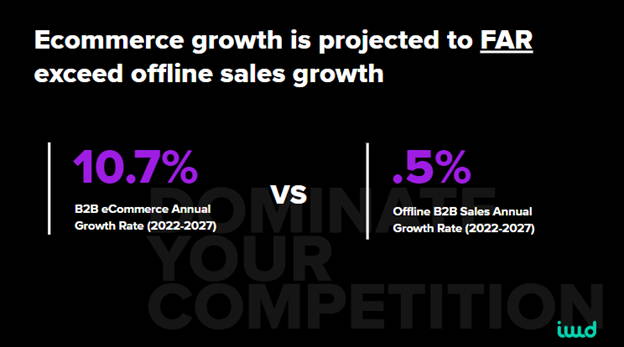 Companies are growing their online eCommerce sales by 10% a year, while traditional means are growing at just 0.5%.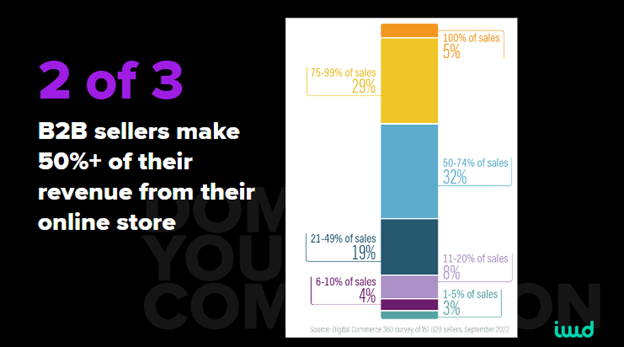 On top of that, studies show that two out of three B2B sellers make more than 50% of their revenue from online sales.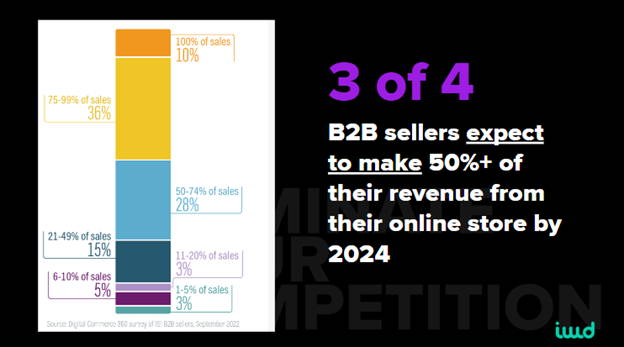 And three out of four sellers expect to have 50% or more of their revenue online by 2024.
3. Offline Sales Remain Important – Choose a Hybrid Model
With all that being said, offline sales still matter.
Phone calls, sales representatives, and other means are still important for reaching your B2B company's full revenue potential.
This is why a hybrid selling model that combines offline and online sales is gaining traction in 2023.
We also know that about 63% of B2B companies expect a combination of hybrid and offline sales to continue. The key is to be present where your customers are and not shut down any sales mediums that customers still want to use.
4. eCommerce Sales Continue to Grow for US Manufacturers
US manufacturers are experiencing year-after-year growth in e-commerce.
Back in 2021, they generated $543 billion in online sales, with a consistent compound annual growth rate.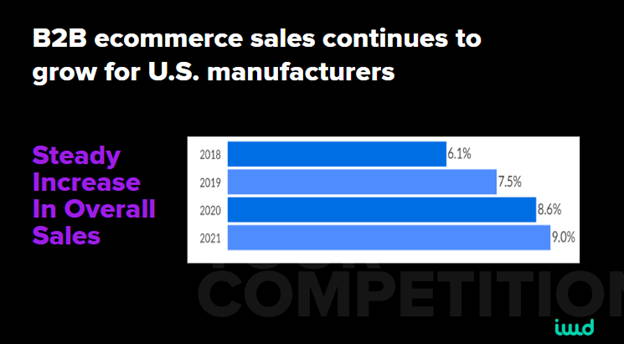 The key takeaway here is that eCommerce B2B sales are taking up a larger percentage of overall sales.
Surprisingly, many B2B companies don't have e-commerce websites yet.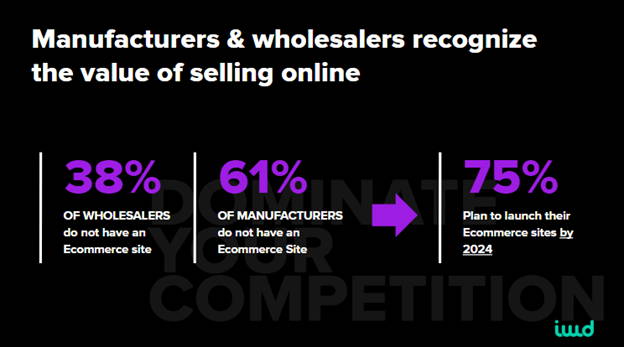 And while approximately 38% of wholesalers and 61% of manufacturers lack a B2B eCommerce website, 75% of these companies plan to launch a website in the next year.
Where B2B eCommerce Companies Are Investing Their Budgets in 2023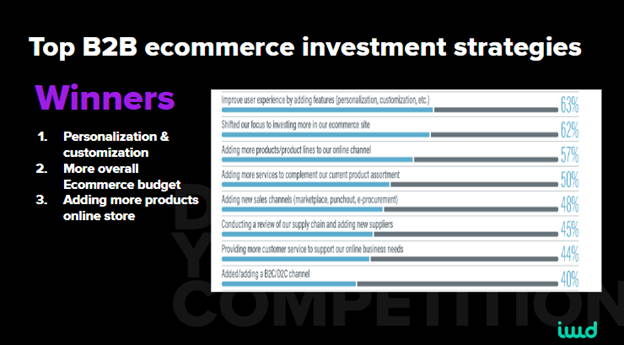 B2B companies that already have eCommerce experiences continue to invest to gain more traction.
They're putting their budget into three key areas:
Overall Budget for eCommerce
Expanding Their Product Catalog
Personalization for End-Users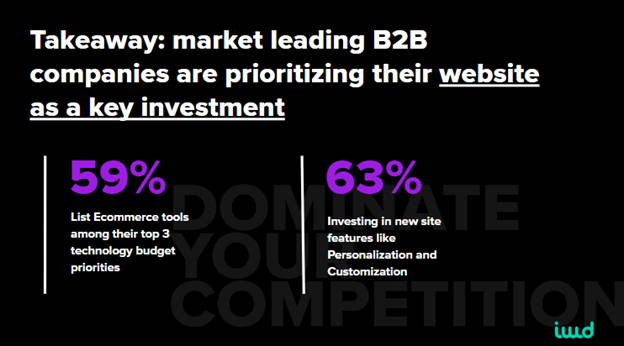 So, the big takeaway here is that B2B eCommerce companies that are succeeding online are prioritizing their website as a key investment to continue growing their online profits.
63% of these companies report that they're investing in new site features like personalization and customization.
59% say eCommerce tools will be in the top three of their technology budget priorities.
We've talked about the other two a bit already, so let's delve into what personalization has to offer your business.
How Personalization Is Fueling Sales for B2B eCommerce Companies
Personalization for eCommerce websites refers to the practice of dynamically tailoring the online shopping experience to meet the individual preferences, needs, and behaviors of each customer. It involves using data and technology to create a more personalized and relevant interaction between the website and the user.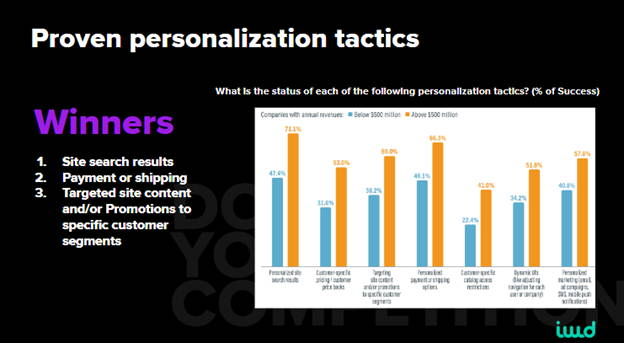 At IWD, some of the most common personalization work we've done for our B2B clients includes:
Improved Site Search
Personalized Payment and Shipping Methods
Targeted Website Content and Promotions for Specific Customer Segments
These personalization strategies enhance the user experience, which can dramatically drive sales because so many B2B websites ignore the importance of providing experiences unique to each buyer.
Proven Conversion Rate Optimization Tactics
While better B2B marketing strategies will go a long way toward improving most companies' revenues, these tactics will only succeed in improving traffic – not profits.
For that, you may need to invest in eCommerce conversion rate optimization to make sure that traffic turns into dollars and cents for your business.  
Fortunately, you have endless options for achieving these improved results. Popular examples include:
In-Stock Product Notifications
Improved Site Usability and Better Analytics to Track Customer Behavior
Onsite Search
Product Recommendations Powered by AI
But countless other options exist for improving your B2B company's ROI – many of which can achieve these results quickly.
The Top 3 eCommerce Platforms for B2B Companies in 2023
While the basic version of Shopify is responsible for countless business owners launching an online presence, Shopify Plus is fantastic for B2B companies that need specific features to optimize their conversions.
Here are the key features that help it stand apart:
Company Profiles
Company-Specific Product Publishing
Quantity Purchasing Rules
Quick Reordering
B2B APIs
Largest App Store – including B2B-Focused Apps
More B2B Features On the Way
The Pros and Cons of Shopify Plus for B2B eCommerce Companies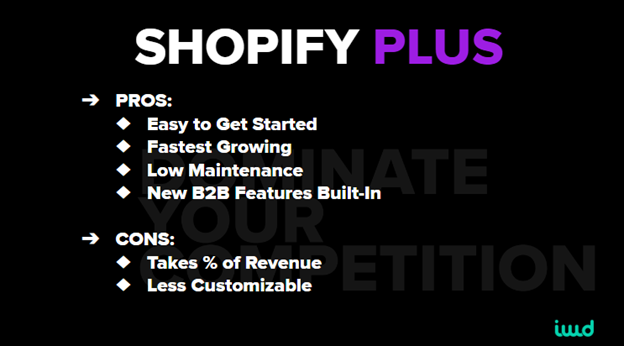 Here's a quick list of the pros and cons of using Shopify Plus for your B2B eCommerce company:
Pros
Easy to Get Started
Fastest Growing
Low Maintenance Costs
New B2B Features Come Built-In
Cons
Costs a % of Your Revenue
Less Customizable Than Other Platforms
BigCommerce is quickly growing in popular among B2B business owners. It combines an impressive potential for customization with low maintenance costs, making it a potent option for B2B companies focused on growth.
Specifically, its B2B features include:
B2B Account Portal
Corporate Account Management
Sales Representative Quoting
Configuring Pricing Rules and Managing Customer Group
The Pros and Cons of BigCommerce for B2B eCommerce Companies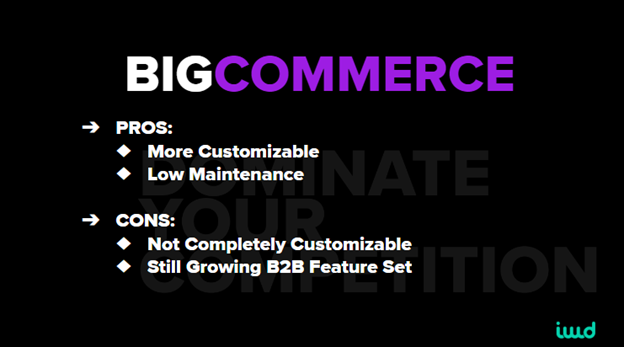 Let's look at some pros and cons of using BigCommerce for your B2B eCommerce company:
Pros
More Customizable
Low Maintenance
Cons
Not Completely Customizable
Still Growing B2B Feature Set
Learn About BigCommerce for B2B Companies
Want to see how BigCommerce stacks up against Shopify Plus? Take a look at our blog post about BigCommerce vs. Shopify for more information.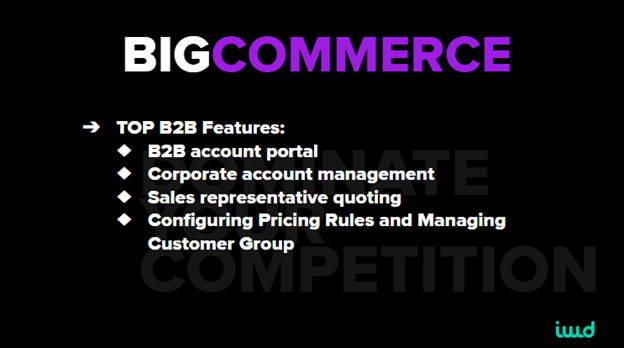 Finally, let's talk about why Adobe Commerce is so great for B2B companies.
Adobe Commerce (formerly known as Magento Commerce) is among the most popular eCommerce platforms amongst B2B companies, especially those with large inventories and those that need lots of customizations to best serve their customers.
While it's extremely powerful right "out of the box", the possibilities for customizing its capabilities are nearly limitless. A comprehensive list of Adobe Commerce B2B features would require its own blog post, but here are the most important ones you should know about:
Company Accounts
Custom Catalogs
Quick Order Tables
Bulk Ordering via CSV Files
Sales Reps Enabled
Quote Approval Process
Requisition List
Ability to Handle Complex Catalogs
The Pros and Cons of Adobe Commerce for B2B eCommerce Companies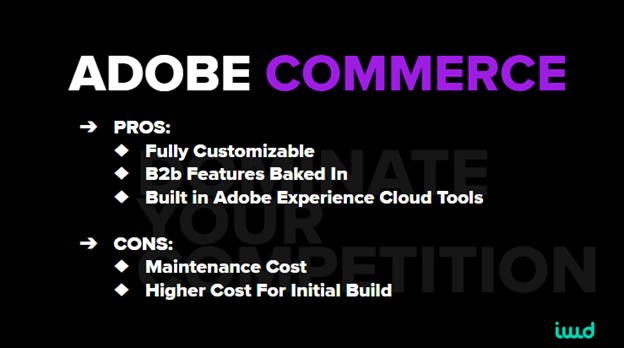 Let's cover the pros and cons of using Adobe Commerce for your B2B eCommerce company:
Pros
Fully Customizable
B2B Features Included
Adobe Experience Cloud Tools Build In
Cons
Learn About Adobe Commerce for B2B Companies
If you want to see examples of how some extremely successful companies have leveraged the power of Adobe Commerce, check out these two blogs:
And if you're interested in comparing other B2B platforms with Adobe Commerce, check out how Adobe Commerce vs. Shopify Plus.
B2B eCommerce Marketing Strategies in 2023
In conclusion, whether a wholesaler or manufacturer, if you're a B2B company and you're not investing in your eCommerce experience, you're missing out.
It's crucial to invest in this approach, and if you've already done so, continue to improve the user experience, enhance search capabilities, and provide engaging content.
Now is the time to make sure you're keeping up with the changing landscape of B2B eCommerce.
If you found this content helpful, please let us know in the comments section below or let us know if you have any questions.