One of the best qualities of Magento is its open source software, which grants each company the agility to completely customize their site to meet the needs of their customers. With the ability to tailor the virtually endless possibilities of each eCommerce platform comes the responsibility to uphold the integrity of your site. This includes every measure you must take to ensure the safety of your business internals, your customers' information, and your collective privacy. A drawback to open source software is that not only your developers, but also skilled hackers can potentially access the internals that not of your system. When a security hazard is discovered, Magento's programmers create updates, known as security patches, to repel any unauthorized users from accessing and abusing companies' servers.  These updates are frequently released to allow companies to adapt and thrive without the looming threat of hackers accessing vital information.  
What are security patches? Magento's patches are slight changes in code that address any security issue(s) that have been discovered. These patches are created and released as self-installing patch scripts that are to be applied to your existing website. The patch script pinpoints existing code and updates the files accordingly.

Since patches are created around core code files, you should never modify these files. If these are altered in any way, it may cause the security patch to fail. Since each site is modified with various extensions and custom code, we recommend using a certified Magento developer to install patches. Unless you are an experienced developer, it is best not to alter your own code.  
Are they important? Many people wonder if it is necessary to take the time and resources to apply patches. When the safety of your customers' financial data, your website, and overall security of your company is at stake, it is best to take every step possible to prevent malicious acts against your business. Not applying security patches is comparable to not locking the door to your storefront at night.
Hackers know that not all users will update their systems right away. When these security measures are released, hackers immediately start looking for unpatched systems and know precisely which weaknesses to target.  
How and when to install: Official patches for M1 are released on the security page of Magento. They will also alert their clients via email and pop-up notification. It is imperative to onlydownload patches from Magento's verifiable security page (hackers can release counterfeit patches to destroy your framework). A security notification will look similar to this: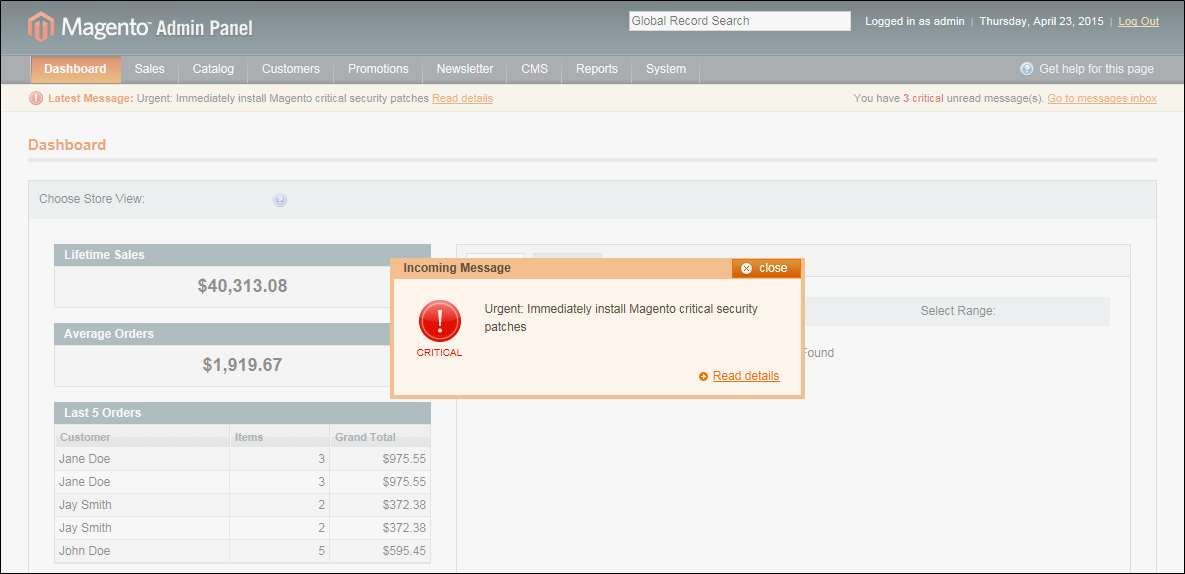 (Note: Only M1 will release security patches when a problem arises; they will also periodically release updates of the software which includes these patches. M2 releases only the updates containing multiple patches.) It is best to install a security patch within one month of its release. Naturally, the sooner the better it is to ward off any danger from your company. Because of the complex customization of each website, it is best to leave the installation to a trusted developer. As a Magento partner, we only use certified Magento developers for our clients. First, we compare your site's code to the new patch (typically takes about an hour), then we will give you a proper estimate of how much time it will take to install. Some patches are more extensive while others can be simple. Additionally, if any previously released security patches are missing, they must all be properly installed before the current one can be implemented. Contact us if you have any questions or if you are interested in having our development team ensure your website's utmost security.