Updated: February 3, 2022
One of the best things about Magento is its open source software, which gives companies the agility to completely customize their sites to meet the needs of their customers.
However, the virtually endless possibilities for tailoring this popular eCommerce platform means you also need to ensure you uphold the integrity of your site. This includes every measure necessary to protect the safety of your business internals, your customers' information, and your collective privacy.
You know, all the things that cybercriminals just love getting their hands on.
Fortunately, Magento makes this easy to do by creating and releasing security patches.
What Are Magento Security Patches? 
When a security hazard is discovered, Magento's programmers create updates, known as "a patch", to fix vulnerabilities that could otherwise be exploited by unauthorized users. These security patches are created and released as self-installing patch scripts.
The updates are also released regularly so that companies can quickly adapt and continue with their business without the looming threat of hackers accessing their vital information. 
Once installed, security patches identify the existing code they were designed to fix and make the necessary updates automatically.
In other words, Magento's security patches are designed to be as easy-as-possible to implement. Still, it's important that you rely on a certified Magento developer to install your security patches. Your site most likely runs on a number of extensions and custom code, so you want to work with experienced developers who can make certain the installation is effective.
That said, even if you are an experienced coder, you should never modify Magento security patches. They were designed with core code files in mind, so altering them in any way could actually cause the security patches to fail.
Cybercriminals would reallyappreciate that.

How Important Are Magento Security Patches?
In a word, "VERY."
You probably have a million things going on, so when Magento releases a security patch, it can be tempting to add installation to your list of things to do.
You'll get to it later.
Unfortunately, cybercriminals have a much shorter list of priorities and all of them involve getting their hands on the kinds of sensitive information they can use to harm your company and its clients.
Though cybercrime has, sadly, come a long way, exploiting sites that don't have the latest security patches is still one of their favorite methods of finding victims.
In fact, according to an article byTrend Microon cybercrime and security patches:
"Cybercriminals exploiting unpatched system vulnerabilities continue to be one of the top reasons enterprises suffer unauthorized intrusions."
It's not hard to see why.
Obviously, websites are extremely vulnerable when they don't have new security patches.
However, companies like Magento also spread the word whenever they release new patches so that their clients can install them ASAP.
This means cybercriminals hear about these vulnerabilities, too.
Often, many of them know about the problem long before the announcement ever comes out. After all, that's why the security patches are necessary in the first place.
Imagine a home security company announcing that they just discovered their systems no longer keep backdoors safe. That sign outside that lets potential burglars know your house is protected would suddenly look like an invitation.
So, it's not just important that you install your Magento security patches.
It is absolutely vital that you install them right away.
The moment that announcement comes out, the clock is ticking.
How to Install Magento Security Patches
If Magento releases a new security patch, you'll be notified one of two ways depending on which version your site is running.
For M1, Magento will notify you right away via email.
They also make it extremely easy to access their new security patches. You'll find official security patches for M1 are released right on Magento's security page:
Magento also periodically releases software updates for M1 that contain these security patches. So, even if you're perfectly happy with the way M1 is currently running, it's a good idea to install those updates ASAP for security purposes.
That said, with Magento 1 on its way out in June, it's more important that you focus on Magento 2.
For M2, Magento only releases updates that contain multiple patches.
If you're curious about current Magento security patches that you may be without, you can always check the Magento Security Center to make sure your site is up-to-date.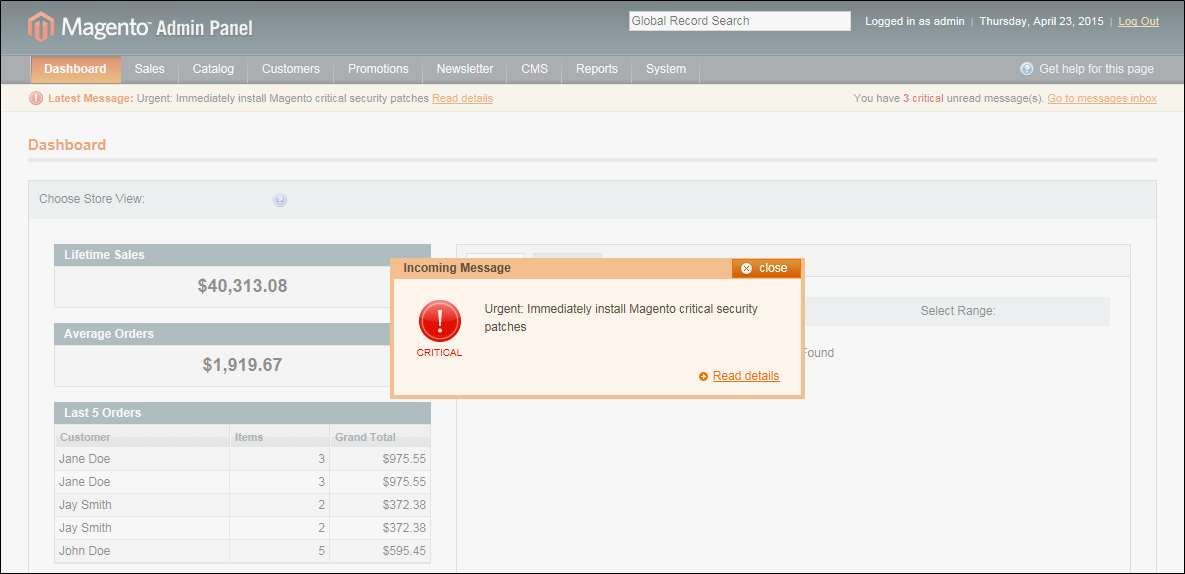 Don

'

t Risk Your Magento Site

'

s Security

There's absolutely no reason you need to wait when Magento has discovered a new vulnerability with their platform.

Remember, cybercriminals are reallyhoping you take your time.

As a Magento partner, we employ a staff of certified Magento developers who can make these important updates to your site.

First, we compare your site's code to the new patch. Typically, this only takes about an hour.

Then, we will give you an estimate of how much time it will take to install the Magento security patch your website needs. Many patches are simple, but some are more extensive and require more time.

Furthermore, if any previously released security patches are missing, they must all be properly installed before the newest one can be implemented. We'll let you know if this is the case when we give you your customized estimate.

Contact us if you have any questions about installing Magento security patches or if you are ready to have our team of certified Magento developers ensure your website is protected by the most up-to-date measures.
Check out more great eCommerce products, services, and resources from IWD
eCommerce Development
Products & Extensions